You do not need to sign up for your own carrier accounts to start shipping at EasyPost. By default, all users have access to EasyPost's Default Carrier Accounts including USPS, UPS, FedEx and more!
In this guide, we will introduce you to Carrier Accounts at EasyPost and cover our most frequently asked questions by customers.
____________________________________________________________________________________
What is an EasyPost Default Carrier Account?
An EasyPost Default Carrier Account, is an account with exclusively pre-negotiated rates for EasyPost customers.  All the account setup, management, payment transactions and reporting is managed through EasyPost so you do not need to navigate to the carriers websites to set up or to fund your labels.
What are the default carriers included currently?
EasyPost currently has the following carriers as part of the EasyPost Default Carrier options:
USPS
DHL Express
FedEx Default
UPS DAP
LSO
What are the benefits to using an EasyPost Default Carrier Account?
Lower label costs:  Up to 88% off retail shipping label costs. We did the legwork to get you the best rates negotiated possible!
Centralized Billing: All label purchases and fees are funded through your single EasyPost Wallet.  You do not have to juggle multiple payment processes or memorize different guidelines for each carrier you ship with. You can fund all your purchases for all your carriers in ONE simple-to-fund and manage balance. 
It's EASY: There is zero need to jump from carrier website to carrier website to set up accounts, or gather all your reporting or transaction history to manage your shipping.
How do I set up an EasyPost Default Carrier Account?
Some default carrier accounts are pre-enabled on your behalf immediately upon sign up, such as USPS and DHL Express, and some need to simply be enabled in the EasyPost dashboard. Check out our article on Enabling Default Carriers using the EasyPost Dashboard, for more. 
What if I already have a carrier account I want to use with my EasyPost account?
EasyPost supports over 100 carriers and if you already have a carrier account, connecting them using the dashboard is easy!  
From the Carriers Tab > Click Add Carrier
Search for the carrier you want to connect
Fill out the field prompts in the form using the credentials that you get from the carrier directly when you set up your account with them.
Then ADD
If your credential details you provided were for a valid account in the carrier's system, then your carrier account will be available to start shipping through right away
From here, you will be able to view and manage your own carrier accounts through the My Carrier Accounts tab.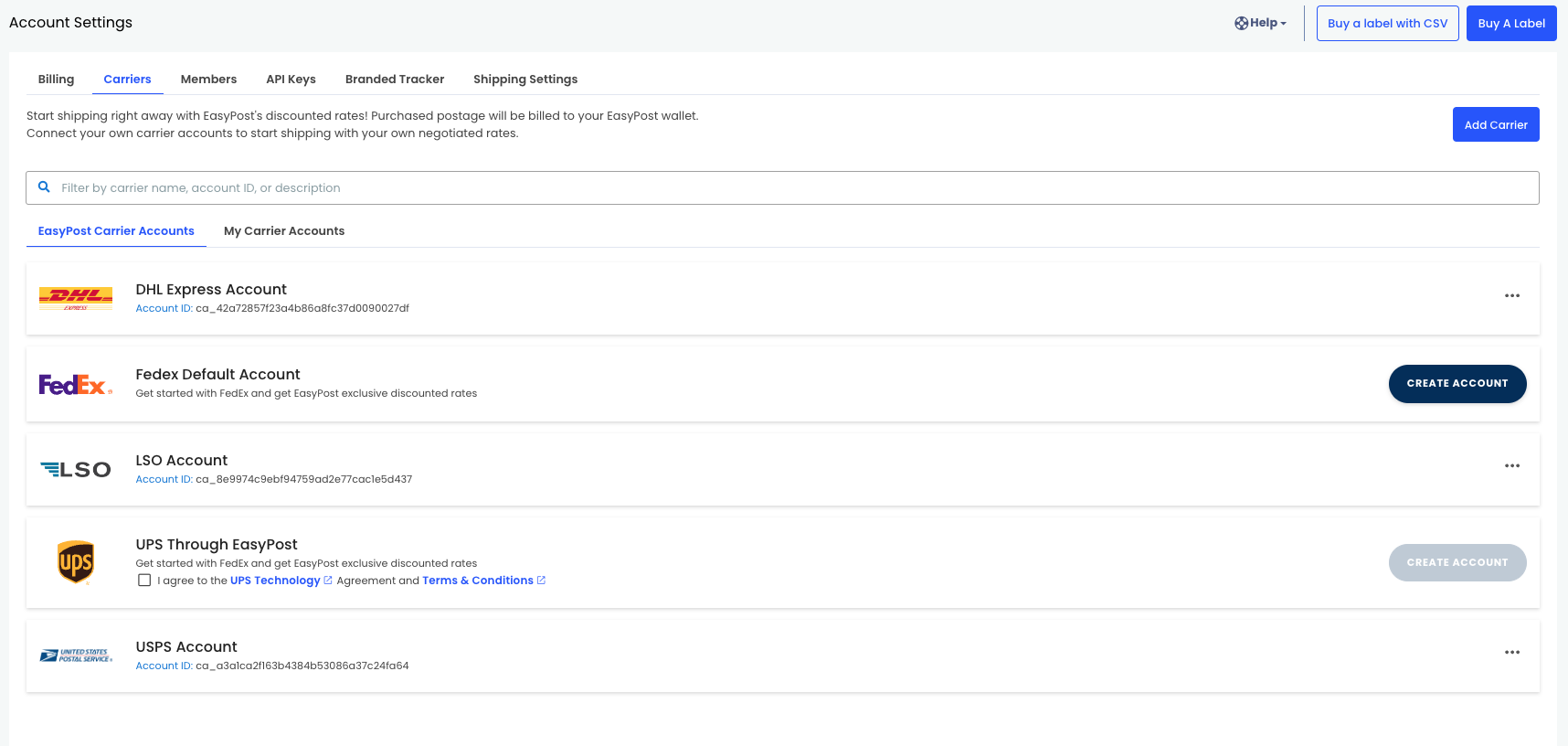 Are there differences when purchasing labels with EasyPost Default Carrier Accounts versus My Carrier Accounts?
The main difference is that with EasyPost Default Carrier accounts all billing (label cost, adjustment charges, shipping insurance etc) is centralized to your EasyPost Wallet and charged at the time the label is created. 
If you choose to connect your own carrier accounts, all the label costs and adjustment charges are handled by the carrier. Therefore, it is on the carriers website where you will manage your payment methods or view your payment transaction history.  The EasyPost Wallet will only be used when you purchase label add ons like EasyPost Shipping Insurance or have any other EasyPost specific usage fees.